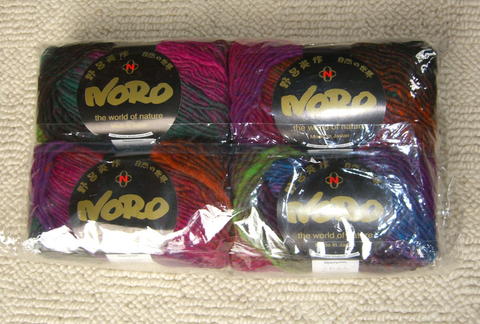 These four balls are all the yarn I've bought this year - in fact all I've bought since last October.

I wasn't sure what to make with them: they were got so I could find out whether I come into the category of people who love Kureyon, or who hate it. So I needed something to knit with them. A booga bag was a reasonable idea, but to some extent, I can't see the point in knitting something just to felt it. In addition, I have enough plain stocking stitch to keep me going for a very long time.

It began to get more urgent: the shop I got them is some way away, and I will be passing it in about 10 days time. If I want to get more I need to make a decision soon. That means starting to knit nowish.

I didn't want to do anything plain garter or stocking stitch, and some of the patterns based on mitred squares just look messy with Noro yarns. What could I do instead?

I searched for inspiration and found it in the picture here. Actually, it wasn't that picture, but it is the same scarf, using a different Noro yarn. Other pictures are here and here. Aren't they gorgeous?

They are all pictures of Karen Baumer's Multidirectional Diagonal Scarf and they really show the striping well.

So far it is going well. I cast on using 5.5mm needles, and I'm using 33 stitches.

For what it's worth, runner up patterns included Edgar and one from MagKnits.